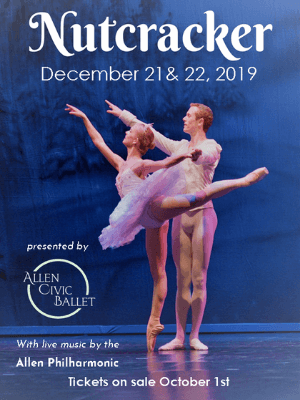 About – The Allen Conservatory of Dance

Since 1995, Allen Conservatory of Dance has been Allen's premier educational facility for classical and contemporary ballet. Whether your child chooses a career in dance or not, don't they deserve the highest quality and professionalism in instruction? Our teachers are qualified professionals with experience in teaching children of all ages.
The Conservatory gives every child the most positive experience possible from the classroom to the stage.  Beginning with our very youngest students, our classes teach the fundamentals of dance in creative and engaging ways through role playing.  Class time is spent on learning technique, not choreography. We endeavor to instill discipline, but in a caring manner.
Our annual recital performances are of the highest quality; they are full-length story ballets with professional scenery and tasteful costumes. For those who desire more performance opportunities, Allen Civic Ballet's "Nutcracker" ballet is open, by audition, to interested dancers. Words alone cannot capture the magic of these productions. We encourage you to check out our photo galleries!
Our Pre-Professional Program provides dance students with the training they need to pursue a career in dance.  The Allen Conservatory of Dance is the official school of the Allen Civic Ballet; this performing company offers dancers a bridge to a professional career by providing numerous performance opportunities, including the "Nutcracker." Additionally, the company offers Master Classes taught by professional dancers. In the past five years alone our roster of guest teachers has included:
Megan Fairchild – Principal Dancer, New York City Ballet
Anais Chalendard – Principal Dancer, Boston Ballet
Stephanie Rae Williams – Dance Theatre of Harlem
Tiit Helimets – Principal Dancer, San Francisco Ballet
Frances Chung – Principal Dancer, San Francisco Ballet
Sasha DeSola – Principal Dancer, San Francisco Ballet
Karen Scalzitti Kennedy – Boston Ballet
Lamin Pereira Dos Santos – Principal Dancer, Kansas City Ballet
Lilliana Hagerman – Principal Dancer, Kansas City Ballet
Brynt Beitman – Take Dance/NY, Julliard Graduate
Paul Tillman – Ballet Arkansas
Megan Hustel – Ballet Arkansas
Our students have been accepted by audition (many with offers of scholarship) to study at San Francisco Ballet, Boston Ballet, Pacific Northwest Ballet, Ballet West, Kansas City Ballet, American Ballet Theatre and many others.
We are a performance based studio; we are not a competition school. However, each year, we invite a select few students to attend Youth America Grand Prix. We have been so pleased to have our dancers place in the Top 12 or Top 24 in the Junior and Senior Classical Categories. Many of our students receive invitations and scholarships at the end of the YAGP event.  
But the most rewarding aspect of our studio for us is the longevity of our students. We have many, many students who began at the Conservatory as toddlers, and have grown into phenomenal artists right before our eyes.  Some have gone on to careers as professional dancers or dance educators; some have gone on to become, doctors, lawyers or engineers. But all of them feel strongly that their time studying dance at the Conservatory has had a profound and positive influence on who they are as people.
From our students' first plie to their final bow, we support our kids for every step of their journey.
We invite you to study at the Allen Conservatory of Dance.  This is what excellence looks like!